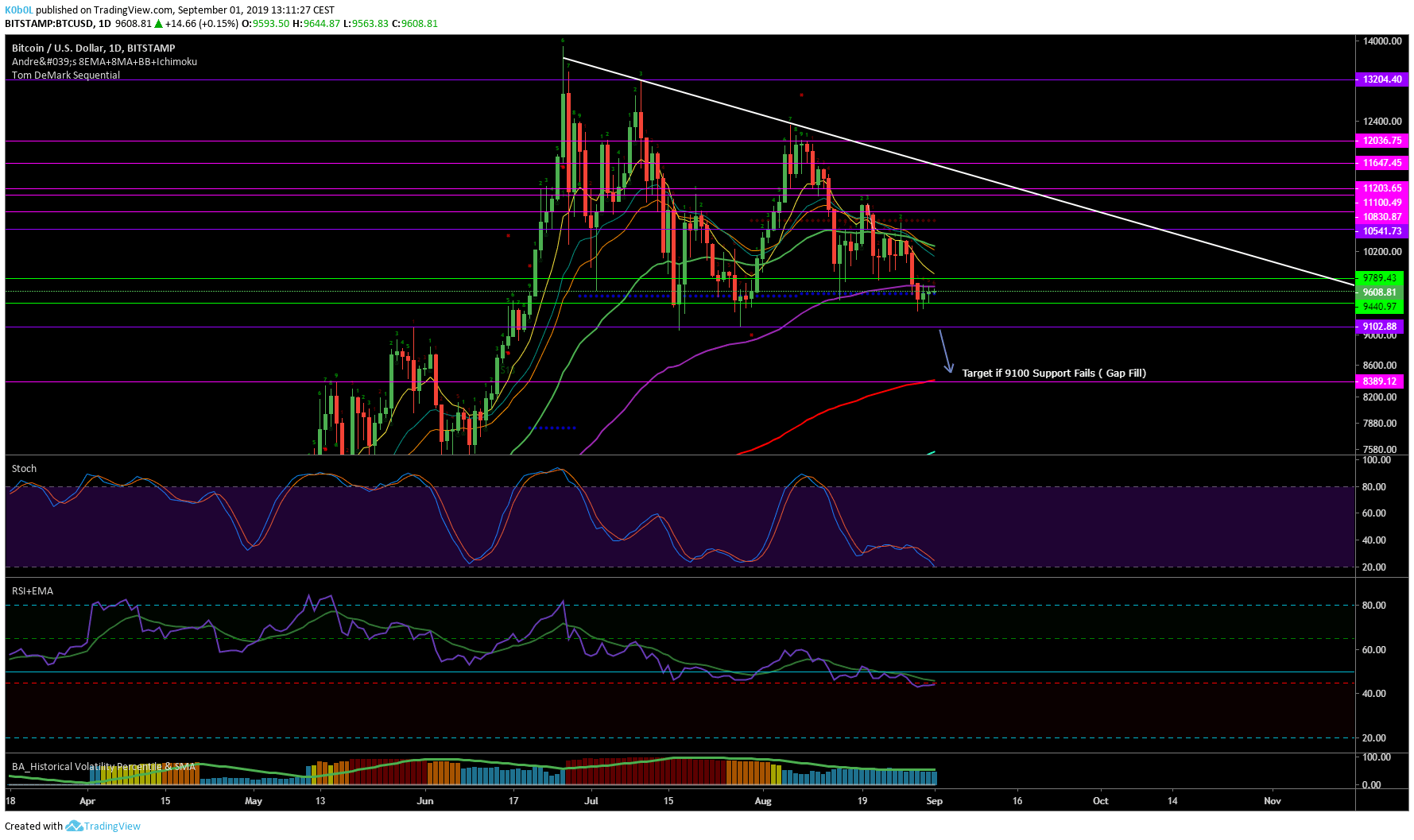 Date: 01.Sep.2019

On the Makro View the Price is now trading below the 10 EMA on the Weekly and the Stochastic is gaining Momentum to the Downside also the Weekly RSI lost the EMA. The Psychological Support of 10k broke this Week but technically i would say the 20 EMA on the Weekly which comes in around 9100 is the real Support that has to hold the Price. The 9100 Price also align with the Support that held the Price from falling down in July.
The Daily Cart looks even more baerish to me, Price is Trading below the 10, 20, 50 and 100 EMA right now. Daily Stoch is pointing down, and the RSI is grinding the bearish control Zone.
On the CME Chart we are have a Gap open from June (8450 to 8950). Keeping this in Mind this would be a potential first Target if 9100 breaks.
If #Bitcoin would hold 9100 it could still go the next 2-3 Weeks Sideways and maybe try to retest the Resistance coming around 11.4 – 11.0 but looking at the current Oscillators i`am giving it less chance for it.
My Personal Opinion looking at the USDT Money Flow and artificial Pumps i am less convenient holding Big Bitcoin Positions right now. At the Current State Bitcoin is only a speculative Asset and has become a traders Game, which can be played very well, but we need to keep in mind that most of the Trading Volume are no Real USD its only USDT which are not backed 1:1 furthermore the company Behind is currently fighting with the New York's General State Attorney.
I am holding a little Short Bitcoin Position right now, which i am Planning to close on a 9100 retest or in case it breaks my next Target to take Profit would be 8450.
After this i would play the Gap Fill Bounce and place a Long for a potential Scalp Trade. Targets 9000-9100.

—————————————————-
Copy and follow my trades on eToro
My Etoro Profile: https://www.etoro.com/people/koboltrading